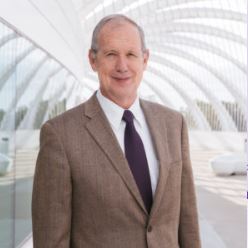 As Florida Polytechnic University begins our sixth academic year, I am pleased to welcome all new and returning students.
This Student Handbook is a starting place to answering various questions, and also serves as a collection of university information and policies, all gathered in a central location.  If you need help or have a question that is not answered in this handbook, please reach out to the Academic Success Center at success@floridapoly.edu. Faculty Mentors and Success Coaches are also great information resources.
STEM degrees are challenging, and it is important for you to find connections at the university. Connections will help enrich your experience at Florida Poly and will help you grow as a student, a leader, and, as we like to say at Florida Poly - the next solution innovator. Connections include your peers, faculty, and staff who are all resources who can help find solutions or address any difficulties you may face.
Student programming and campus activities focus on four primary values that, together, comprise the Florida Poly graduate: 
Leadership:  Individual Excellence and Institutional Pride
Collaboration:  Impactful Community Members
Innovation:  Ethical Problem Solvers
Adaptability:  Intentionally Healthy Individuals
Students develop these values in the various curricular, co-curricular, and extra-curricular opportunities on campus. Join a Registered Student Organization (club), participate in intramurals at the Student Development Center, form a study group in your residence hall, apply for a student worker position. Get involved! Our campus community is strongest when students are engaged and contribute to the Florida Poly experience.
I encourage you to embrace the Florida Poly experience. Study hard, challenge yourself and become a part of Florida Poly. 
Good luck with this year, and I look forward to seeing you on campus.
Dr. Terry Parker